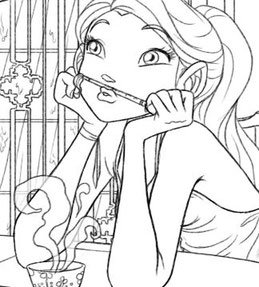 Hey there folks! Here's the latest update on the comic:
I'm busy finishing the lineart for the second comic page. You can see a tiny preview on the right again. So far it's going faster and easier than planned. I was especially worried about the backgrounds but (so far) they took waaaay less time than anticipated! Yey for that!

Also I'd like to mention how very happy you guys made me by commenting and sharing your opinion on the whole "Would you like to contribute characters to the comic" matter!!! Seriously, I appreciate everything you guys do a lot and this will help me get the pages done faster and pass the time until the next page.
You're the best! I'll be including the first two victim- uh... volunteers in the page riiiight now! So excited about it! I hope the will like how it turns out. Also, I was busy thinking up fair ways to handle castings in the future. Again thanks to the help of some fellow-Witch fans, I think I got a good idea of how I want to manage the next one which will be held after I finished prologue page 02. So keep an eye out!