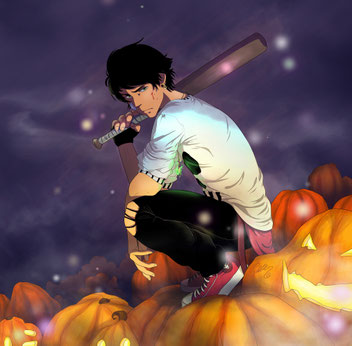 Happy Halloween everyone!
I hope you have a most wonderful spooky night full of candy, ghostly appearances and fun!

My Halloween already started yesterday! We had lots of friends over and threw a party! It was a blast! I was the night! Very scary, I know. Today we have a holiday so I could finish my side project: "White Light", a Halloween story.
Some time back I asked you guys what my story should be about and the poll resulted in something unusual like a necklace or a painting or music box. While the story isn't finished just yet, the cover already is! Hooray!
I'm quite happy how this one turned out and it didn't even take me that long to draw! I'm usually bad at choosing colours and creating a balance between them in a picture but this time I think I managed to create something decent. Since I'm a big Halloween fan myself I really wanted to do something this year to share with you guys. Also I've been looking forward to introduce Maze for a while now!
I will offer the little book for sale soon so stay tuned!
Once the story is finished (which should be by the end of the week) I'll return to the comic.