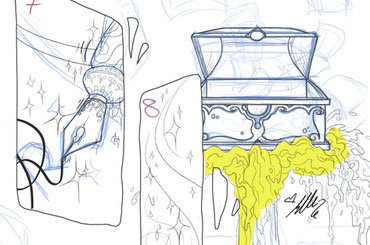 I passed the exam!!! Hooraaay!!!
Super happy about that! Now it's only 2 more and I'm finally through my training! YUS!! *silly happy dance*
As for W.i.t.c.h. Sovereigns: That's getting along slowly but steadily. As you might remember, I had some ideas and scribbled around on the Irma feature or rather the start of the adventure. Well yesterday I finalised the drafts and story so they're set.
Today, since I passed the exam on first try (YEEEESSS!!!) I spend a little bit of time cleaning up my sketch for the second prologue page. So far it's all going according to plan, I'm even a little ahead of my schedule!
Tomorrow we're taking the train south to visit my father-in-law so new updates will probably come sometime next week. See ya then!