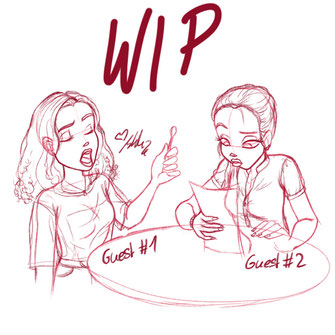 As you might have already noticed, I'm going to hold castings once in a while. I am not yet sure how exactly they will work and most likely the rules will differ from casting to casting so be sure to read them carefully in order to participate.
Apart from that it's finally WEEKEND!!! YUS!!!
Yesterday was such a drag! I had class again and it was really exhausting so I was super happy when I finally got out to see Avengers in the theatre. WOHO! Such a good movie! But I won't say more so you don't get any spoilers. Today I set down to draw my first guest characters. These two volunteered kindly to be my guinea pigs and it's so fun to draw them! Never really thought it might but it's really cool to try and catch their individual features right and transfer them to the roles they're playing. Love it!
About the castings... I still have to see how I'll go about it, if I'll only make castings for bigger roles like these with actual details and such or if I'll also offer up smaller ones where the design is simpler but the characters or people might still somewhat be recognisable. I guess we'll just have to give it a try.