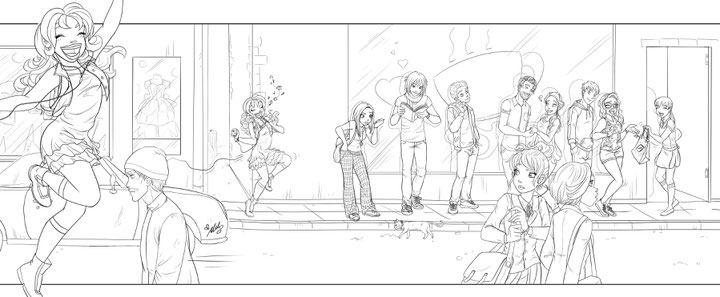 After taking a break from the Sovereign comic (worked on the Halloween story instead) I'm finally back and finished the lineart of the next page yesterday. The reason for the break is partially becaus we've had so much to do and so many visitors over - almost every day we were going somewhere or had  someone visit us - that I needed the few days left without appointments to myself to just relax and do whatever I feel like. The comic then seemed like work, even though I really like drawing it.

It didn't help that people got impatient - mostly the casting members. While I understand that one's anxious to see the final result, I'm doing this project completely as a hobby and out of fun which is why I'm doing it in MY schedule. That is why nobody has to pay for a commission. Now if people come to me saying they're still waiting and where the picture is at and whatnot, that simply seems ungrateful to me and gives me stress I don't need right now. This project is supposed to be fun and help me learn something about comic drawing. That is it's major purpose. The fact that I'm sharing it online and include the community is a bonus, something that I thought could be fun for everyone. These impatient messages I get are also the reason why I'm considering not to make any castings for the comic for a while.
Luckily, not everyone is like that. There are some people out there who're super happy about every tiny bit I show them of the progress and that support me and tell me it's okay if it takes longer. They're understanding and patient and that's the kind of people I really want to draw because I feel like I can make them happy.
The next comic page doesn't involve any extras anyway so I have plenty of time to think about whether or not I want to host a casting again.